The "torch–like" journey of The Ball is the most important element of the initiative and is the narrative spine that supports the activities that surround it.
Your organisation can be embedded in the 2014 narrative of The Ball and play a major role in shaping that narrative. The Ball can add value to your cause in a way that simultaneously enhances your brand identity and extends your community reach.
Central to the journey in 2014 is a series of events whose purpose is to benefit the organisations that are involved with The Ball and leave a legacy for them once it has moved on.
The Route
Dec 2013: The Ball 2014 is unveiled and is delivered to London.
Thursday, January 9th 2014: The Ball kicks off in Battersea Park, London.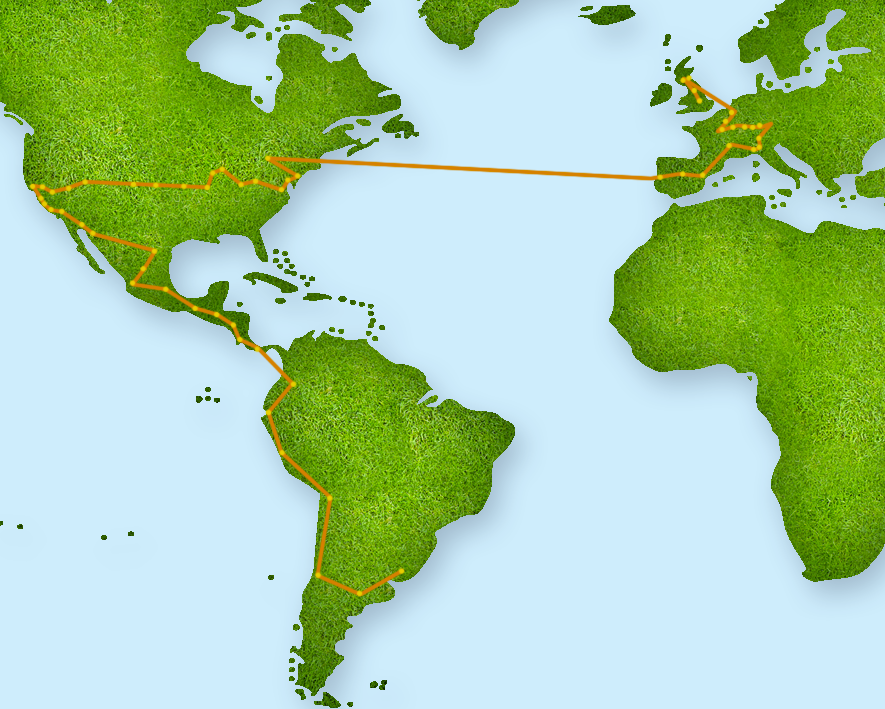 Europe
England: Jan 9 – Jan 13
Scotland: Jan 14 – Jan 16
England: Jan 17 – Jan 19
Belgium: Jan 19 – Jan 20
Holland: Jan 20 – Jan 21
Germany: Jan 21 – Jan 26
Switzerland: Jan 26 – Jan 27
Italy: Jan 27 – Jan 28
France: Jan 28 – Jan 29
Spain: Jan 29 – Feb 2
Portugal: Feb 2 – Feb 5
North America
USA: Feb 5 – Mar 4
Mexico: Mar 4 – Mar 14
Central America
Guatemala: Mar 14 – Mar 22
Honduras: Mar 22 – Mar 29
El Salvador: Mar 29 – Apr 4
Nicaragua: Apr 4 – Apr 6
Costa Rica: Apr 6 – Apr 14
Panama: Apr 14 – Apr 18
South America
Colombia: Apr 18 – Apr 27
Ecuador: Apr 27 – May 3
Peru: May 3 – May 11
Bolivia: May 11 – May 16
Chile: May 16 – May 23
Argentina: May 23 – June 1
Uruguay: June 1 – June 6
Brazil: June 6: Journey's End and start of the FIFA World Cup
June 6 – World Cup Final: The Ball tours Brazil