We encourage people and partners to arrange events for The Ball in their local communities, whether in the World Cup's host country or on the journey. Such involvement draws upon local knowledge and encourage unique, organic, community–driven events. Our partnership with the Freestyle Football Federation gives us access to their global network of freestyle experts who are sure to thrill at these events.
These events have a proven capacity to engage, inspire and motivate. Many events from previous journeys have left a lasting legacy. For example:
The Diplomatic Cup, Namibia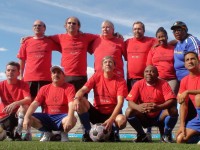 In Windhoek, Namibia, Special Olympics organised a game that was played between Ambassadors and Parliamentarians. The teams played for the "Spirit of Football Cup," which will be contested each year as a fundraising event for Special Olympics Namibia.
Children's tournament, Tanzania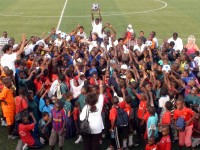 In Dar es Salaam, Tanzania, DHL assembled a team of corporate sponsors to establish a football tournament in the national stadium for children from poor areas of the city. The Tanzanian Football Federation pledged that the tournament will be a recurring event.